Welcome To HL Mando Softtech India
HL Mando Softtech India Private Limited was (formerly known as Mando Softtech India Private Limited) incorporated on July 22, 2005. The promoter of the company is HL Mando Corporation, South Korea, who holds 100% of the share capital of the company. The products are brake systems, steering systems & suspension systems. The company started providing services from January 2006 onwards.
HL Mando corporation, South Korea was established in the year 1962 with an annual sales figure of 6,147 billion Korean won as of 2021. HL Mando has also been recognized by the credit rating of AA- & having a worldwide workforce of 13,773 people working on different automotive components spread across 14 countries & 50 hubs.
HL Mando is creating history in movement with ultimate freedom Safer, Greener & Easier. HL Mando dreams of a world where all users live and experience freedom.
HL Mando is a global auto parts company specializing in core components that are key to vehicle safety. HL Mando is a global leader in key enabling technologies for future mobility, including redundancy concept and by-wire technology, and is strengthening eco-friendly vehicle solutions such as e-Drive and hydrogen fuel cell converters. In addition, HL Mando is promoting business expansion through new business opportunities in mobility, including vehicle predictive maintenance/diagnosis, and cloud-based data service.
Mobility Freedom Creator, HL Mando!
HL Mando Creates Freedom in Future Mobility with Diverse Core Competencies and Innovative Technologies!
Message From Managing Director
"We Provide Challenging Work Initiatives To Develop Next Generation Technology"
HL Mando has inspiring past and a strong present. Such a journey required the qualities of foresight, strategy and preparedness, along with the power of trust. This journey towards excellence will continue, by our Constructive communication, team building towards a common objective and our business ethics.
HL Mando's Management team is committed to our company's core values which are behind our success for all these years. We expect that same commitment from our employees and business partners. Integrity, Frontier and Together – these values have defined HL Mando since the founding of the Company. Our commitment to these ideals must be unwavering. Our vision is to deliver a customer experience second to none. When it comes to ethics and integrity there can be no compromises, no excuses.
HL group presents with great delight our new young brand "Higher Life" which stands for its pursuit of higher life. The group's new logo visualizes the movement of a person striding, which embodies the spirit of challenge and growth. Stride, which means "to walk with long, decisive steps to make a bold leap forward,"
Youthfulness is the call of our time. Being young means constantly growing and evolving by discovering new things without falling into the traps of stagnation. We will take a bold leap forward with our creative talents while communicating with the market through our new and young HL brand."
We pride ourselves on being the customer's first choice. For many years we have witnessed consistent growth, achieved a long-term success and faced with challenging times. HL Mando is continuously adapting to the changing situation and the shifting balance of the markets in which we operate. We take these measures from a position of financial and strategic strength and anticipating others. The result of this continuous process is an efficient, flexible and dedicated organization.
HL Mando Softtech recognizes that its real strength lies in its people, which make this Company great. I would like to thank and give a big applause to every single member of the Company, who have contributed relentless hard work, responded faith in Company's progress and all the efforts of the past to bring up here today and will continue to grow for years to come.
Thank you.
Daesung Kim

Managing Director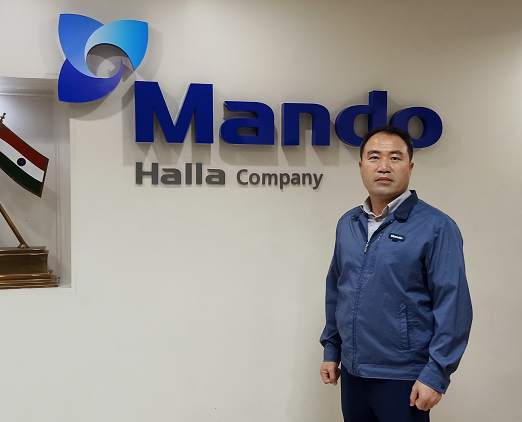 I thank you for visiting our website which must have given you a broad insight into our organization's salient features, product profile, our accomplishments and our Mission and Vision.
I am proud to say that we remain upbeat about our prospects in the coming year, and we will continue to execute our growth plans for the coming years. We have been consistently investing in technology & resources to enhance the efficiency at our operation levels so that we can pass the benefit of our engineering and quality endeavors to our customers.
Progress for me has never been a dream. It has always been a distant reality and once one milestone is achieved, there is always another one waiting to be crossed. It is with this belief that I started career with Mando and over the years Mando Softtech India became a prominent name in its business segment. I always want to push my company to more prosperous milestones. More than being a global player, I always perceives my company as a unit that could make a difference with its quality and competitive workforce. We are into highly sensitive business that requires a high amount of technical know-how, expertise and specialized knowledge
Our business philosophy based on delivering value to our stakeholders constantly inspires our people to innovate, excel and set new global bench marks. Our multi-cultural work force gives us strength and provides quality products and services. Our great team has stood up to every challenge presented to them. They have adhered to our thoughts and plans very effectively. I have been successful in bringing Mando Softtech India to a new milestone of global recognition.
Mando Softtech India prides itself on having shaped a positive corporate image based on its frontier spirit and integrity. With the support of our parent company and my team, I am confident that the company will continue to scale milestones of excellence for years to come.
Thank you.
Choong Lyul Oh

Managing Director

Dear visitors to Mando Softtech India,

Welcome to our fantastic engineering world, Mando Softtech India (MSI). Mando Corporation, Mother Company of MSI in Korea is the one of leading company in World Automotive Parts Industry.
MSI is the one of R&D center in Global Mando. MSI is providing intelligent and innovative engineering solution for development of Mando products. – Conventional and Electronic Control System of Brake, Steering, Suspension and Driver Assist System.
Working field of MSI is classified as below.
Hardware development
Software development
Development of Environment for development
Validation and Verification
CAE support (Modeling and Analysis)
In these days Electric/Electronics is main stream of Automotive Industry in the world. Mando is also concentrating on electric/electronic solution to enhance own products like Electronic Stability Control, Electric Parking Brake, Electric Power Steering, Smart Damping Control and Driver Assist System with Camera, Radar and Ultra Sonic Sensor. Especially our products fully related to safety are strongly requesting safety design like requirements of ISO26262. MSI is providing the solutions for intelligent and innovative technology for Mando products development into all kind of cars – passenger car, commercial car, combustion car, hybrid car and electric car and contributing to realize full safety and no failure in Mando electric/electronic products in order to comply to functional safety.
Main goal of MSI is to accomplish perfect safety with evolved competence in Electric/Electronics development.
MSI has grown up since established in 2005. At first MSI provided only engineering resource to support development. But nowadays role of MSI is to not only support but also lead development of products system. The scale of company has been obtained over 50 times compared to the beginning of establishment. The competence of MSI is also expanding to support for all global demands from Korea, Germany, China and North America. Now Mando is Global Leading Company and MSI is also Global Engineering Leading Company in Mando without any doubtful occasion. The growth of MSI will continue forever along with the growth of Mando.
"Satisfaction" is the main motto in MSI. First of all, MSI focuses on "Customer Satisfaction" with all of our efforts. Customer can expect perfect service and products from MSI. To achieve "Customer Satisfaction", MSI always recognizes and analyzes customer requirements exactly and creates new innovative solution to make products to realize the customer requirements. Additionally MSI also focuses on "Employee Satisfaction". The company can sustain eternally if the employee can sustain. To achieve satisfaction of employee, MSI considers the balance between work and life of employees. Several committees are organized by employees and leads activity to motivate all of our employees. Basic principle of Human Resource Management is to make our employees participate. MSI employees can make their culture, history and career through participation in all activities of company.
With MSI, customers and employees can dream, believe and just do everything.
Always welcome you to our MSI.
Thank you.
October, 01 2014

Sunghyun Yoon

Former Managing Director

Welcome to Mando Softtech India Pvt Ltd. Mando is one of the world's leading company in Automotive industries. Mando Softtech India (MSI) is one of the subsidiary of Mando. MSI is R&D centre specialized in electronic control field.
Nowadays, the technology trend is moving from passive safety to active safety and accident free. Automotive components to be electronically controlled so that vehicle to be controlled and remain in safety situation. For example, vehicle is not spinning out on slippery surface or vehicle is detecting front side pedestrian and reduce its speed accordingly. These kinds of R&D deliverable are being implemented or will be implemented to real vehicle so that driver can drive in safety environment. MSI is doing R&D activities in this field. We are very much proud of ourselves contributing future technology for human kind.
MSI is very young organization. We have passion. We have dreams and future. I like this saying Organization grows up in the size of organization members thinking. Since MSI members have unlimited size of thinking for the future, I assure you that we will one of world leading R&D organization in the future. MSI started to pioneer future automotive technology and we will continue this way so that our footsteps will be milestones for the future technology.
I would like to recall the saying from Honorary Chairman In Young Chung, founder of Mando, that I Dream it, Believe it and Just do it
SEJOON OH

Former Managing Director

Mando Softtech India

HL Mando Vision & Mission
"We Provide Challenging Work Initiatives To Develop Next Generation Technology"
Provide the best driving safety and convenience solutions through continuous technology innovation, while enhancing the life value of our customers, suppliers, stakeholders, and employees and fulfilling corporate social responsibility.
Work Environment – How We Do It
The key to success in a competitive job market is to create an environment where people thrive in their work conditions. MSI differentiates themselves from the competition by providing challenging work initiatives to develop next generation technology with great reward and sense of accomplishment in return. It is an environment that applauds taking calculated risk while offering support and encouragement instead of instilling a fear of failure. Our workforce strives to support each other on our journey toward technical advancements. Our facility allows individuals to develop new technology in a hands on environment.
Creation : Innovation and Disruption as Usual
Safer : Identity of Global HL Mando, Nature of our Biz
Greener : Eco-friendly
Easier : Comfortable & Convenient
Freedom : Our Ultimate Goal, Sum of Safer · Greener · Easier
Core Values
MSI will contribute to human welfare by offering products and services
with its best efforts based on its talents and technology.
Integrity
Work fair and square by complying with the basics and principles
Sincerity
Work with sincerity while complying with the basics and principles.
Honesty
Avoid words and deeds that are contrary to one's conscience and act straight and honestly.
Tansparency
Share the work process and results openly with related personnel.

Frontier
Be the best by taking on challenges and innovating with an indomitable will
Challenge
Set a high target and boldly take a risk.
Innovation
Pursue newness with differentiated ideas, free from stereotypes.
Best
Learn passionately to become an expert in one's field.

Together
Seek coexistence through consideration and communication
Consideration
Respect each other's personality and diversity, and give compliments even for small matters.
Communication
Have conversations with an open mind and truly empathize with each other's opinions.
Trust
Trust and rely on one another and fulfill responsibilities without fail.