Mechanical Engineering
Cost effective solutions for Future Mobility Systems
Chassis System
Mechanical Engineering department is working towards providing cost effective solutions, automation enhancement in design development activities and optimization solutions to future mobility systems. Our major work products are as below;
Conventional and Electronic Braking Systems
Hydraulic and Electric Power shaft steering systems
Conventional and Electronic Suspension Systems
E-Mobility Systems (Traction motors and Controllers)
Work Area
Design
Computer aided design (CAD) is a way to digitally create 2D drawings and 3D models of real-world products before they're ever manufactured. With 3D CAD, you can share, review, simulate, and modify designs easily, opening doors to innovative and differentiated products that get to market fast.
Key Functional Area

drum_brake_assembly
Motor on Caliper Assembly
Design & Drafting
Stiffness, FRF analysis
DFM, DFA Checks, and Design Parameter Analysis
Proto and Production Engineering Drawing
CAE
Computer-aided engineering (CAE) is the broad usage of computer software to aid in engineering analysis tasks. It includes finite element analysis, computational fluid dynamics, multibody dynamics, durability, and optimization. To reduce the cost of prototyping, virtual models are developed and subjected to various real-time simulation conditions to check the structural integrity and feasibility of the product.
Key Functional Area :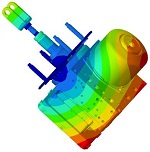 IDB Assembly
Center Motor
2D and 3D FE Modeling such as Quad, Tetra and Hexahedral
Stiffness & Strength Analysis
Buckling & Large Deformation Analysis
Fatigue Analysis
Thermal & CFD Analysis
NVH Analysis
Squeal noise Analysis
Correlational analysis with the test data for optimization
Automation
Automation is helpful in enabling shorter lead time, increase productivity, and improves quality, controlling human errors and produce cost effectiveness for work area of CAE & CAD process cycle. Automation generates Easy customization of software to meet end-user requirements & increased compliance to corporate processes through automation & this gives customer easy to use and work.
Key Functional Area :
IDB Assembly
Pre and Post processing time reduction
Design drafting
Database management etc.
Work Products
Brake
Brake is an integral part of chassis system which is used for slowing or stopping a moving vehicle, wheel, axle, or to prevent its motion, most often accomplished by means of friction.
Key Products

Brake Corner Module
Single Pot & Double Pot Calipers
MoC, BIR, Monoblock Caliper, e-Drum
IDB
EMB Caliper
Steering
Steering is the system that steers the vehicle in the direction intended by driver. The steering system controls the directional movements of the wheel which control the stability of vehicle.
Key Products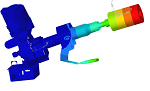 CEPS Steering Column
Column type (C-EPS)
Rack type (R-EPS)
Dual Pinion Type (DP-EPS)
E-Mobility:
Electric vehicles (EVs) are driven by electric motors which are powered by energy stored in batteries. We design advanced powertrain solutions as per the vehicle dynamic and OEM requirements for all types of Traction Motors and Controllers for 2-Wheelers and 3-Wheels vehicles.
Key Products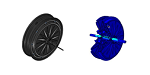 Hub Motor
Hub Motor
Center Motor
Motor Controller
Suspension
Suspension system consists of damper/shock absorber, spring and linkages that connects vehicle chassis and the wheel. The tuning of suspension system should compromise between road handling (braking, cornering) and ride comfort (noise, bump and vibrations).
Key Products

Suspension Strut Assembly
Macpherson Strut
Damper Assembly
HCS, MFS & SFD Valve