Corporate Social Responsibility
MSI CSR Policy is to ensure socio-economic development of the community where we live and operate and cater to deprived sections of the society so as to help them in becoming Self Reliant.
"Education is the most powerful weapon that can change the world". For the year 2022, MSI focuses on facilitating and nurturing talent by supporting fundamental education and aim at improving digital literacy, as envisaged by the Digital Literacy Initiative of Govt. of India. To this end, MSI spends a major portion of its CSR budget funding in education and skilling initiatives as well as providing necessary infrastructure. MSI partnered with Youth for Sava (NGO) and supported two major CSR projects - School Adoption program and NMMS program
School Adoption Program
MSI adopted 3 schools - GHPS Chandrapura, Bangalore and GHPS Yadavanahalli, Bangalore and Government Senior Secondary School, Gurugram. We supported the education of underprivileged children and worked at the grass root level to identify the crucial areas. Under this initiative, Computer labs, Libraries, Solar-powered Smart class infrastructure, embedded with technology, has been setup in schools to aid e-learning. For enhanced learning, we provided learning materials, organized workshops for teachers, provided tutor for teaching and setup necessary (basic) infrastructure like clean drinking water and sanitation.
School adoption Program has demonstrated success, as together, these initiatives have positively impacted all these school children. Children have now access to clean drinking water, have a better hand washing facility, a secluded toilet space. They are able to get education through smart class technology set-up, which enhances their learning experiences through interactive sessions. Children from these schools are getting computer education which helps them to learn basic computer knowledge, understand the internet, access to vast amount of knowledge over the internet to learn and explore more.
Working Together in National Means cum Merit Scholarship Program (NMMS)
NMMS is a competitive exam conducted by MHRD, Govt. of India for 8th standard students from Govt. Schools to avail monetary scholarship from the government. The student who cracks the exam will avail a scholarship of 1000 /- per month for the next 4 years. This is to promote higher academic education and educate children from economically and socially disadvantaged groups who are most at risk of dropping out of school, due to financial crisis.
MSI employees volunteered to coach and teach students on concepts based on Mental Ability to crack this exam. We would like to extend our sincere thanks to MSI employees, for their active contribution, who have carried out their responsibilities with keen interest
Gurgaon School Adoption Program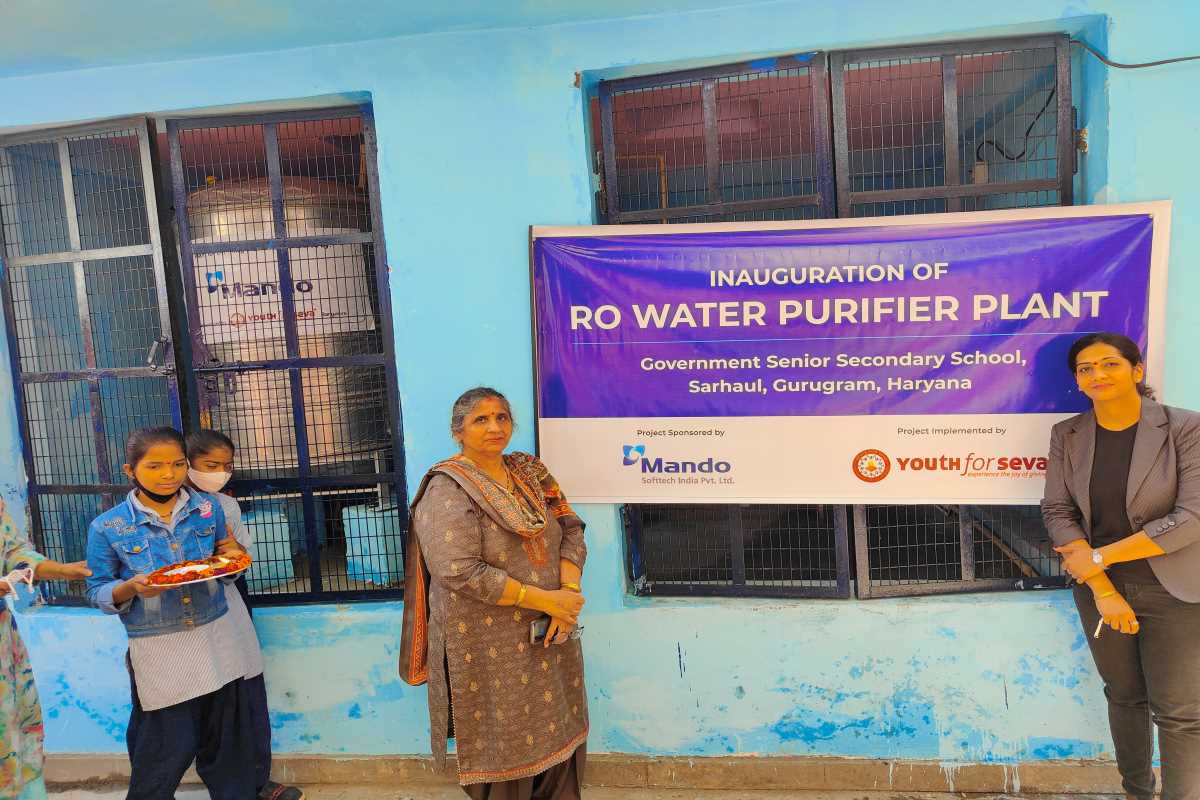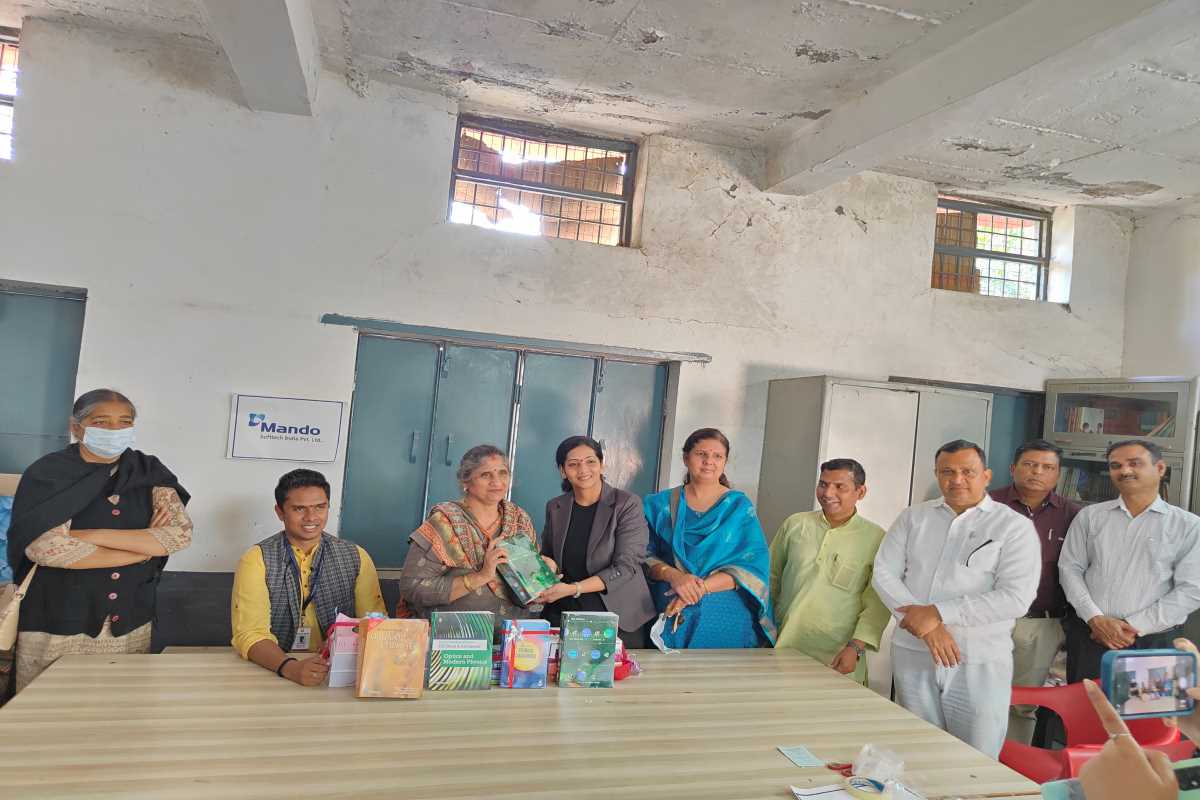 Bangalore School Adoption Program
Inauguration Event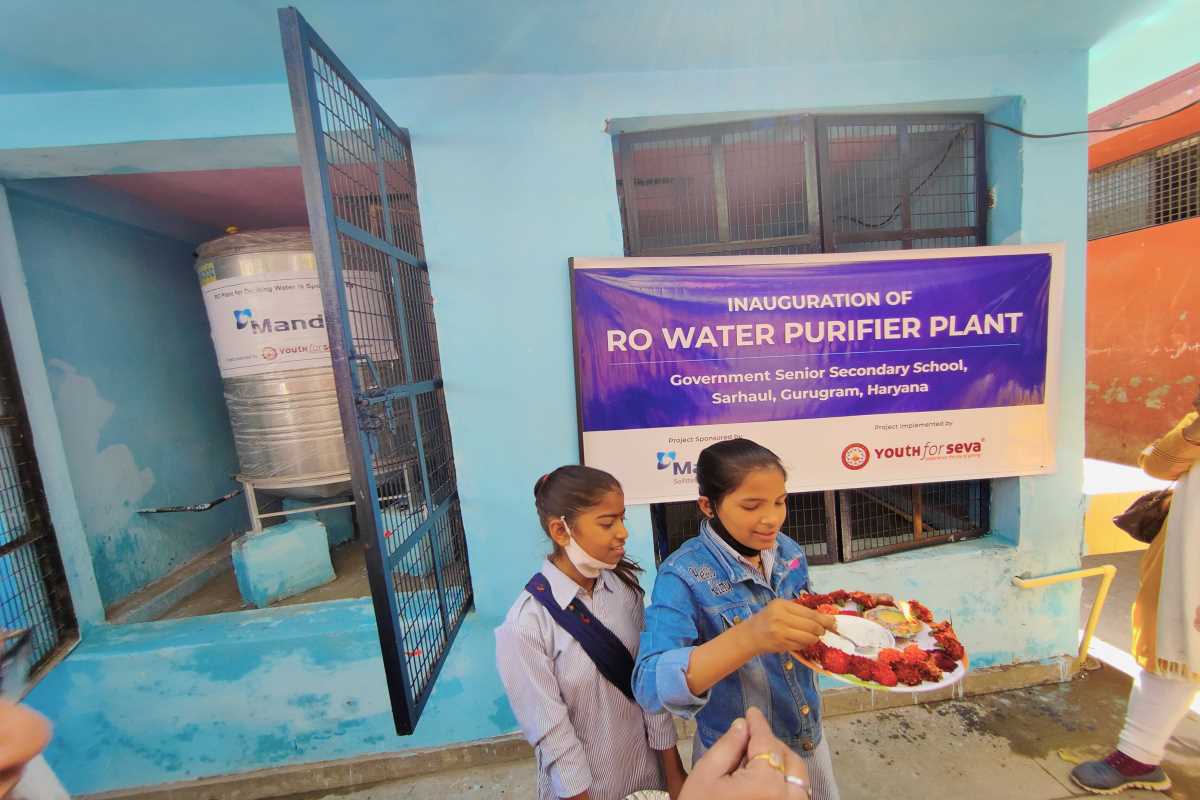 Mando Softtech India Private Ltd partnered with Akshaya Patra in providing nourishment, education and tools of hygiene to Government/Aided school children in Delhi NCR and Bangalore.
During this pandemic, Happiness Kits are being delivered to these students and their families to ensure the continued nourishment of children, while also encouraging them to continue to pursue their education. In addition to dry rations, every Kit contains educational supplies, including an activity book (printed in regional languages), as well as hygiene and sanitary products. To aid Akshaya Patra in distribution of Happiness kits in lieu of mid-day meals, Mando Softtech India has sponsored 1300 Happiness Kits to Government school children in Bangalore and Delhi-NCR. We successfully distributed kits to 800 Government school children in Bangalore, Karnataka, and 500 Government School children in Delhi.
Joy Of Volunteering
Mando Softtech India Private Ltd has sponsored 1300 happiness kits for school children in Bengaluru & Delhi
6 Volunteers from Mando team in Bangalore participated in distribution of Happiness Kits to 295 Government School children in GHSS Yellunkunte, Bangalore on 18th March 2021
5 volunteers from Mando's Gurgaon team visited Sarvodaya Kanya Vidyalaya, Molarband, Badarpur and distributed 150 Happiness Kits to the children on 24th March 2021
Beneficiary Voice
Mando Softtech India tied up with NGO for creating awareness on Corporate Social Responsibility. This NGO is an independent, non-profit organization committed to improving road safety and emergency medical care across India and aims at creating a strong, sustainable CSR movement in the country.
The NGO has successfully trained more than 170 MSI volunteers across Gurugram and Bengaluru Locations and Police officials. Under the Jeevan Rakshak Programme, volunteers and Police Personnel were trained in Basic Trauma Life Support (BTLS), which enabled to respond appropriately in emergency situations resulting in reduction in mortality and morbidity.
Mando Softtech India also partnered with a NGO for conducting COVID-19 Training program. This Training program is uniquely modified for each category of Health workforce. This NGO engaged with Department of Health and Family Welfare, Government of NCT of Delhi (GNCTD) in view of developing of a comprehensive emergency medical response system and managing COVID-19 in the NCT of Delhi.
The project aims to conduct online COVID-19 awareness training along with training on protocol for 1000+ emergency response personnel working with Delhi Govt.
Emergency Care Personnel will broadly include:
Drivers of Emergency Vehicles
EMT/ Paramedics in Ambulances
CATS Control Room Staff
Other Emergency Care Staff involved in COVID response
MSI CSR committee members
Mr. Choong Lyul Oh, Managing Director
Mr. Seongho Choi, Director – Member
Mr. HanKyu Choi, Director – Member
MSI CSR activities / focus area on
Education
Road Safety
Health & Hygiene
Skill Development (vocational & technical)
MSI shall implement CSR activities on its own or through
Collaborating with NGOs
Collaborating with Group Companies
Direct Deposit in Govt. approved funds like
1 : Prime Minister's National Relief Fund
2 : Swatch Bharat Mission
3 : Clean Ganga Mission